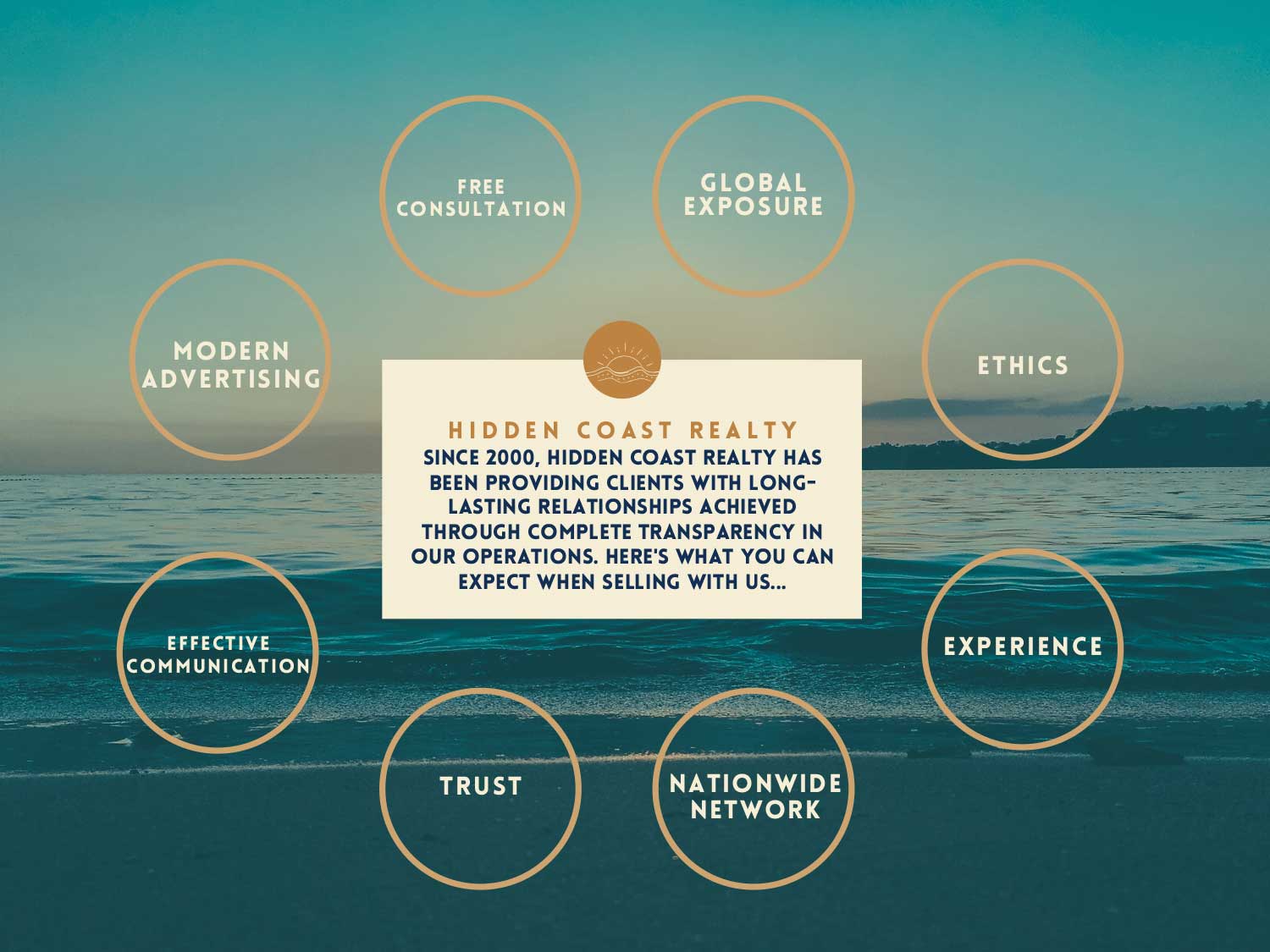 Our team welcomes in new clients by offering a free estimate of their property value. We will ensure that our clients list their Costa Rica property at the right price.
We base the listing price of your property using comps in the area, the condition of your home, and urgency of the sale.
We at Hidden Coast Realty, strive to offer the perfect combination between experience, exposure and networking to ensure that the sale of your Costa Rica property goes through in a timely manner.
Exposure is of prime concern at Hidden Coast Realty and this is what sets us aside from many of the other real estate firms in our area. At the difference of many, we believe that working jointly with our trusted competitors is a more beneficial way of doing business than is keeping listings for ourselves. We collaborate with other firms in the area and allow for the sharing of your property to be posted through other trusted countrywide company's websites. The typical listing format implies that your listing is only visible on the website of the firm you are selling through, whereas our team at Hidden Coast Realty ensures that it will be visible on various platforms and provides significant exposure while keeping a permanent line of communication amongst our team, other local brokers and of course our database of clients.
Hidden Coast Realty currently has a large following of over a thousand people on Facebook–the social media platform of choice here in Costa Rica. We are also present on Instagram, LinkedIn, Google My Business and Youtube. Because we understand the overwhelming impact that a strong social media presence has on the success of exposing your property, it is appreciated by many.
Additionally, we send out frequent newsletters pertaining to current events related to real estate and lifestyle. This newsletter is sent out to a database of over 5000+, so your property is certain to gain attention as well as educate others on the happenings in our community.
Presentation is of utter importance to not only our clients, but also to us and our potential buyers. We have a team of professional photographers and videographers that are more than capable of producing an attractive image of your property. Buyers often only see a house, and you see a home and that is what we want our photographers convey in their images of your property. First impression is everything !
Once we have a prospect that is interested in buying your property, our communication skills are unsurpassed by any other real estate firm in the area. Together we can communicate in 5 different languages (English, Spanish, German, Dutch and French). We answer all emails, calls, etc. within just hours of receiving your message no matter the day, we never miss an opportunity to do business.
When the day to sell comes, leave it to our head broker Joost Hauwert to seal the deal and leave you feeling nothing short of satisfied. With over 29 years of experience in Costa Rica and having handled hundreds of transactions, there is no challenge that Joost can't overcome and no sale that he won't pursue.
At Hidden Coast Realty, our mission is to provide our clients with the least stressful selling experience. Contact our team today for a free estimate on your property! Thank you for your consideration in our company, we look forward to working with you.